Hi-Lux Leatherwood CMR 1-4x24 Test and Evaluation
Karl Kasarda - Suarez International Instructor (Tucson, AZ) 
This is a review of the Hi-Lux Leatherwood CMR 1-4x24 close to medium range optic. I intend to go walk you through the installation, zeroing and use of this optic in both the CQB and SDM/medium range role.

Every sighting system we leverage on our rifle has benefits and detriments, it is up to the user to determine what needs they have for their application and therefore chose the sighting system that best fits their current needs.

Iron sights are durable, always there, and can be very effective with training and practice. However, iron sights leave something to be desired when forced to leverage them in less than optimal firing positions.

Red dot 0x sights excel at CQB distances to 100 yards. Quality red dot sighting systems provide a nearly parallax free sight picture which is easy to acquire in almost any strange position without eye relief issues when speed is of the essence. Red dot systems start to fail, however, at distance. Typically the dot itself is not sufficiently precise or is too large for targets at distance. Adding a secondary magnifier in the rear can help but then again introduces elements of parallax as well as eye relief. Lastly, these magnifiers tend to be another obnoxious and heavy thing that is now hanging off your carbine.

The Hi-Lux Leatherwood CMR scope intends to fill in the role between a CQB sight and a precision high magnification "sniper" scope. The CMR optic is variable between 1x and 4x with a quick to acquire reticle designed not only for CQB purposes but also for distance with range finding capabilities and a built in BDC for quick hold offs at range.

Unboxing:

The Hi-Lux scope comes with a number of accessories and excellent instructions: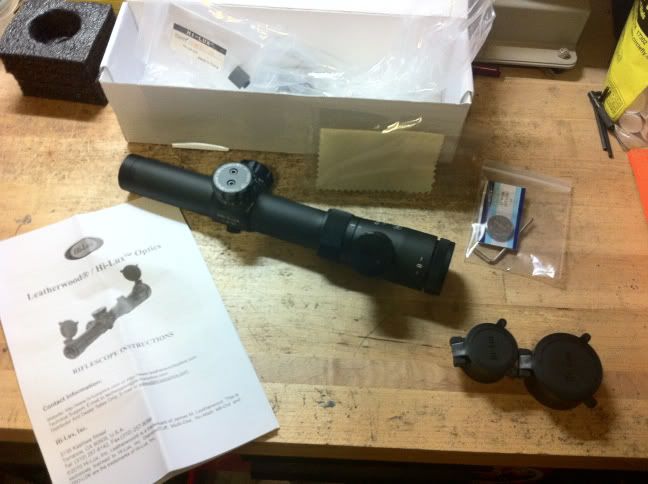 The optic comes with a cleaning cloth, front and rear lens caps, allen wrench and a CR-2032 battery (for the illumination).

I would highly recommend adding on the extended lever for the magnification dial as this greatly speeds up the ability of the user to get to the magnification they need when they need it. We'll discuss that more later.

Installation:

The optic was very easy to install and, due to the windage stadia lines that extend across almost the entire field of view from left to right, also very easy to get level in the mount:

Please note that the mount is not included with the scope. The mount used for this review is the Burris P.E.P.R.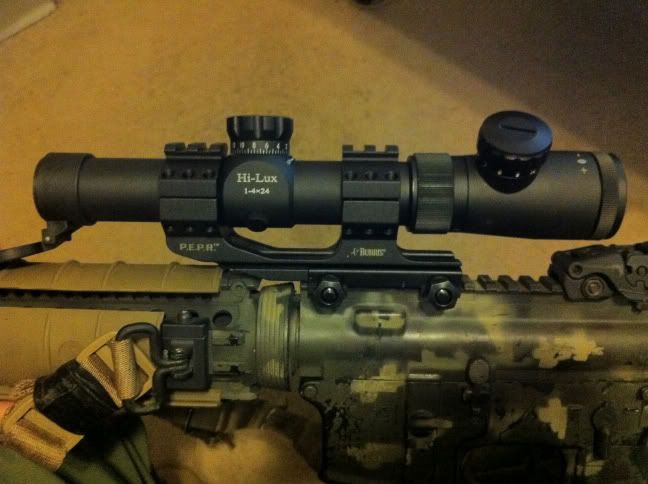 The magnification knob initially is rather small and a bit hard to get a grasp on: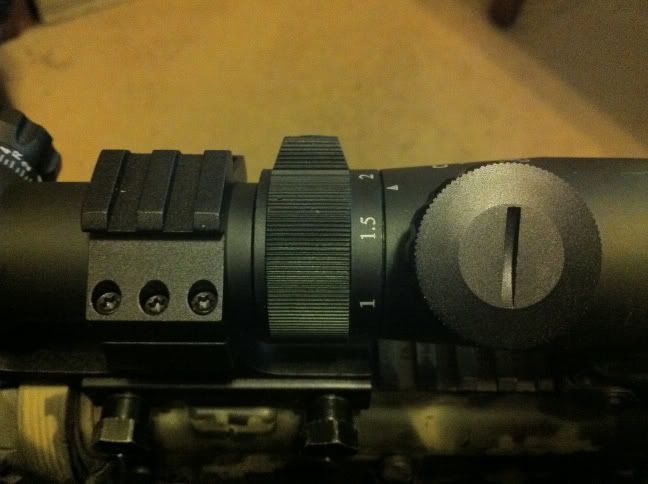 The add-on accessory of the extended lever takes just a minute to install and I would highly recommend purchasing it with the scope. With the extended lever, it is quick to find and switching from 1 to 4x magnification is a snap: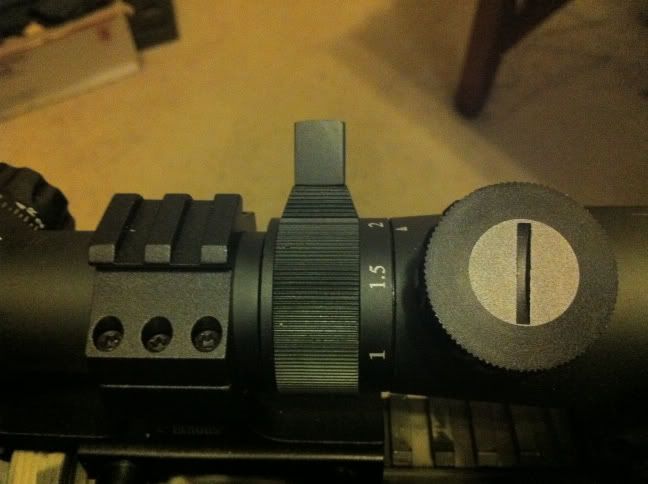 Zeroing:

The Hi-Lux scope has an elevation knob on the top and a windage knob on the right. The "clicks" are a bit soft but good enough to do the job. When zeroing the scope, you'll want to loosen the two hex screws holding the knobs tight on both the elevation and windage. With these screws loose, you can turn the knobs without effecting the "zero" settings underneath.

As with any optic, it is best to start by just bore sighting (if possible). On an AR, just take the upper off the lower receiver and then sight through the rifle bore on some easily identifiable thing. I tend to use a rock outside, for example. While keeping the upper steady on a bench, look through the bore and point it at the object you're using. Then look through the optic and dial it in until it is also pointing at the same object. This should get you on paper at 25 yards when you start to zero with live fire.

At this point, start at 25 yards from a supported position and fire 2 rounds. Adjust only elevation or windage at a given time, do not move both at the same time. Once you have elevation correct, then adjust the windage. When you're impacting where you are aiming, move the target out to 50 yards and repeat. Ultimately, you'll want to zero the Hi-Lux CMR at 100 yards as that is where the optic is designed to be zeroed for the BDC reticle to be accurate.

Fire a 5 shot group at 100 yards and confirm that you're exactly where you're supposed to be. When done, tighten the hex screws on both knobs and ensure they reference "0".

Usage in the CQB environment:

Many "1x" scopes on the market truly are not 1x, but something close like 1.1 or 1.2x. The closer the 1x is to a true 1x, the easier it is to use for close range engagements. The Hi-Lux CMR scope's lowest 1 setting isn't quite exactly 1x but it is so close that I find it can be used easily with both eyes open without causing significant visual distortion. This is a great achievement, and in my opinion, one of the best features of this optic. It's not quite as fast as a red dot system but it is as good as you can get with a variable magnification optic.

The reticle is very quick to bring on target and, due to the very close to truly 1x magnification, keeping both eyes open and focused downrange is not a problem.

Here's a video of myself performing a 5 yard 5 shot drill with the CMR:

http://www.youtube.com/watch?v=HiQahSu25yk

The eye relief of this scope is also very forgiving. Most variable magnification optics have very limited eye relief parameters thus making it nearly impossible to get a sight solution on the target in any unusual firing positions. Here's a video of the scope in action, SBU prone under a barricade with targets at 50 yards approximately 90 degrees apart:

http://www.youtube.com/watch?v=3oXrG5JChz0

Lastly, with the extended lever, switching from 1 to 4x is a rapid and easy transition. There is limited application for the intermediary magnification settings; I've found that I'm usually at 1 or 4 and rarely in the middle. It'd be nice if the optic could just quick switch between the two but that's an entirely different beast.

Hold offs for extremely close range are also very easy and quick. The CMR reticle is a nearly completed circle with a break at the bottom 6 o'clock. That break in the circle is, for any practical use, your hold over for close range (7 yards, for example). The black dot in the graphic below indicates the area of the reticle I'm referring to.
Please note that the black dot is not really part of the reticle but I superimposed it there for demonstrative purpose:





Usage in the SDM role:

When zeroed at 100 yards, I found the BDC reticle to accurately represent the hold overs with 62 grain 5.56. 55 grain is relatively close as well, sufficiently close for "torso hits" at range. If you're using "exotic" loadings like 77 grain Mk262 or 75 grain Hornady bullets, you'll need to goto the range and determine which stadia on the BDC reticle represent your particular load at distance. This is not a challenging endeavor, however, just requires an hour at the known distance range and a box of ammunition. Fire at each known distance and then notate the location on the BDC that reflects your ammunition's behavior. Once I have this nailed down, I actually tape it to the side of my stock as a quick reference guide. In this regard, if I switch from a standard load to a 77 grain load for longer range, I can just glance down to determine the hold over I should reference in the BDC. I would not recommend attempting to commit this memory only as memory tends to fail at the worst possible moment.

Here's an image of the reticle along with all the different measurements of different elements. As you can see, there's a lot of flexibility here in what you can personally choose to use for your range finding as well as hold offs: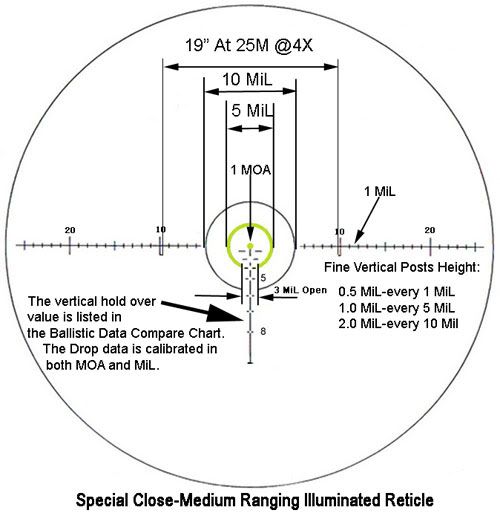 The relatively forgiving eye relief affords the user the ability to switch between required positions with minimal difficulty. The only position I found to be challenging with the eye relief was when going from standing to sitting as this tends to position the shooter's cheek weld further back than any other position. You can either 'creep up' on the optic or learn to quickly adjust your adjustable stock forward for a better siting position. The reality of this is that the sitting position is likely the least used place you'll find yourself in and thus this is a minor issue.

Once again, the quickly adjustable variable magnification is a great aid. Acquire your target at 1x, then use the extended lever to zoom in to 4x. This can be done while maintaining a sight picture and therefore you can keep the target in view through the entire process. This is an excellent function for maintaining situational awareness and keeping track of multiple, or moving, targets down range.
Issues:
Nothing is perfect, and so a few bugs did arise during the testing.
Target knobs can be accidentally moved.
The elevation and windage knobs are too easily turned. While they are designed well in that you can very quickly reset them to zero, I would prefer that they could be "locked" so that they could not be inadvertently bumped. When I first started zeroing the scope I was concerned about this possibility but wanted to wait to see if it did actually happen in the field, and it did. On a few occasions I did find that my windage knob, in particular, had been inadvertently bumped and moved off zero. One time this happened when being removed from the carrying case but, more disturbingly, a few other times did get bumped while being used in dynamic movement. At very close ranges this would have minimal impact but it could be catastrophic at range. I landed up "locking down" the knobs using electrical tape. Frankly, with a CMR/BDC reticle, I have no need for quick adjustment target knobs. I'd suggest that this optic should be zero'ed and left alone. Resultantly, my suggestion to Hi-Lux would be that they provide a way to lock the knobs entirely.
Illimunation
The CMR optic has the option of green or red illumination. This illumination is not sufficiently bright to be used except in low light. While it essential to have this illumination during low light, do not expect to be able to use it otherwise. As a result, the black reticle can occasionally be lost in the background if the background is dark. This is not too problematic but is worth noting.
Insufficient sun shade
There is insufficient tube forward of the primary glass at the front of the scope.
This presents two issues:
1) Down range glint and glare could give away the shooter's position.
2) If you're aiming in a direction that is towards a bright light source, the lack of a sun shade can blind the shooter.
During a few tests in the early morning or late afternoon I was partially blinded by the sun even though it was at an offset angle. The light was being caught by the forward lens and reflecting in the tube. I believe a longer sun shade would eliminate both of the problems dramatically.
Summary and conclusions:
The Hi-lux CMR 1-4x24 optic is an exceptional piece of equipment for someone whom needs to deal with targets anywhere from 1-400 yards. It fills an important niche in that it can be leveraged in both the CQB as well as mid-range SDM role, something that neither a standard red dot nor a fixed magnification optic can truly perform efficiently. With the 1x setting, using this optic at close range is only minimally slower than that of a dedicated red dot but much faster than a fixed magnification optic. With the variable magnification up to 4x, the optic can be very successfully leveraged for target identification and engagement past 400 yards.
It is an incredible bargain at the price they've brought this to market at and exceeds the performance of other very high priced scopes (such as the Leupold CQT).
It has proven itself to be durable, reliable and effective in its intended purpose of bridging the gap between close and mid range. I would have no concerns recommending this scope to anyone looking to extend their reach without having to completely surrender all close range effectiveness.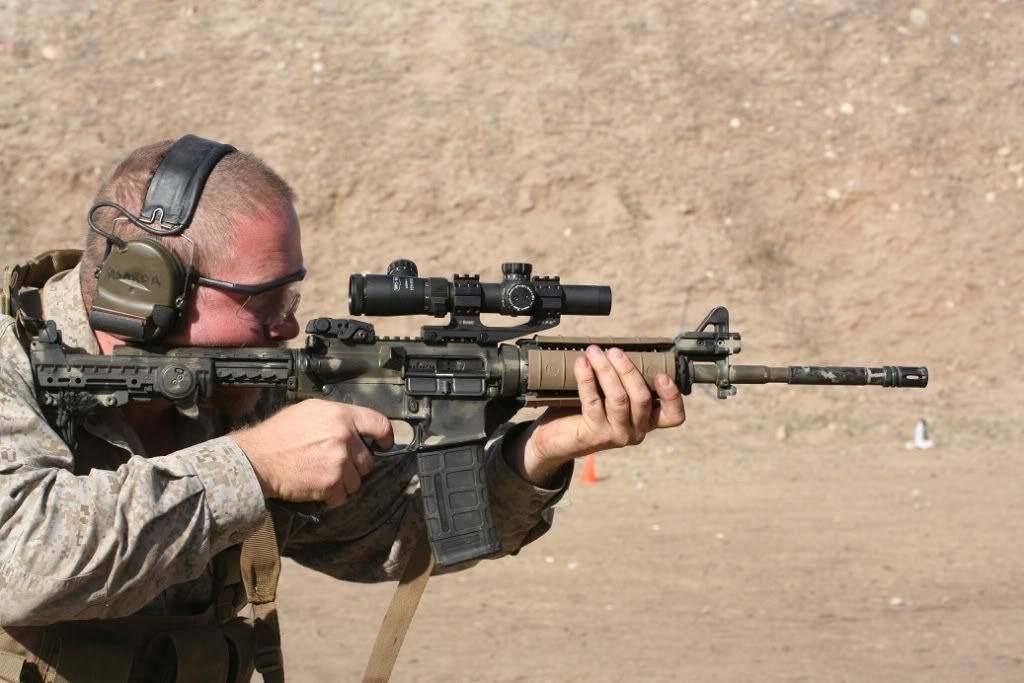 You can get this scope from One Source right here:
http://www.onesourcetactical.com/lea...angescope.aspx
Don't forget the extended lever as well:
http://www.onesourcetactical.com/cmr...ndedlever.aspx